We do research to learn more about our speciality. We then publish this to share what we have learned, so that others can benefit too. Research and experience benefit no one unless they are freely available to others.
Here is sample of our recent publications in Immunology and Allergy. You can find out more by searching the web using the "DOI" number on the end of each article. You can also contact the department for more information.
Krishna MT, at el. (2015) Prescription of adrenaline auto-injectors – A national survey of UK allergy specialists. Clin Exp Allergy 2015 (in press)
Krishna MT, Huissoon AP. Peri-operative anaphylaxis – beyond drugs and latex. Int Arch Allergy Immunol 2015;167(2):101-2. DOI:10.1159/000436971.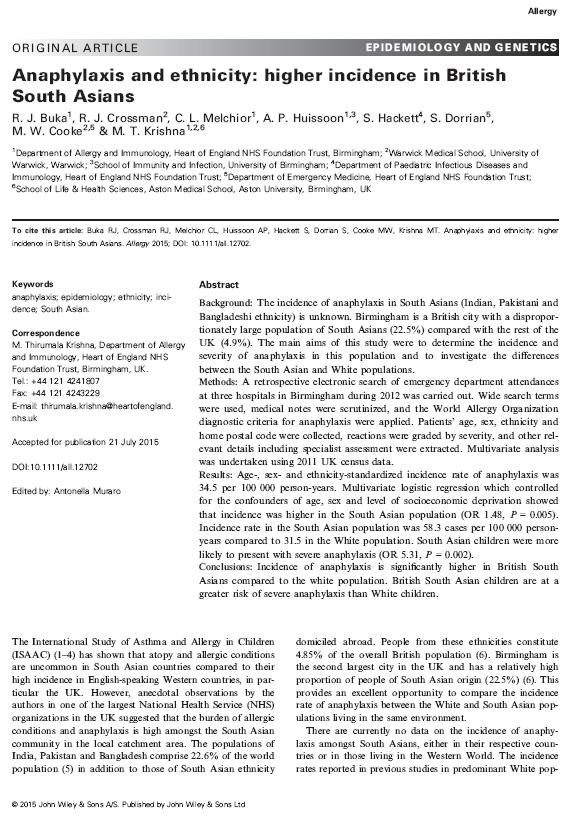 Buka RJ, et al (2015). Anaphylaxis and ethnicity: higher incidence in British South Asians. Allergy; DOI: 10.1111/all.12702
Record J, et al (2015). Immunodeficiency and severe susceptibility to bacterial infection associated with a loss-of-function homozygous mutation of MKL1. Blood. pii: blood-2014-12-611012
Bahal S, et al (2015). Absent AB isoagglutinins: a clue to immunodeficiency. Transfusion Medicine; 25(3):201-3.  doi: 10.1111/tme.12213.
Turley AJ, et al (2015) Spectrum and Management of Complement Immunodeficiencies (Excluding Hereditary Angioedema) Across Europe. J Clin Immunol 35(2):199-205. DOI 10.1007/s10875-015-0137-5.
Mirakhian R, et al. (2015)  Diagnosis and Management of Penicillin Allergy – British Society for Allergy and Clinical Immunology (BSACI) Guidelines.  Clin Exp Allergy 2015;43(8):941-9. DOI 10.1111/cea.12468
Pidgeon TE et al. (2015) Management of a transcranial abscess secondary to interleukin-1 receptor associated kinase 4 deficiency. J Craniofac Surg.;26(1):e2-3.
Krishna MT, et al  (2015). Multi-centre retrospective analysis of anaphylaxis during general anaesthesia in the United Kingdom: aetiology and diagnostic performance of acute serum tryptase. Clinical &  Experimental Immunology;178(2):399-404
Lu W et al. (2014) Dual proteolytic pathways govern glycolysis and immune competence. Cell;159(7):1578-90. doi: 10.1016/j.cell.2014.12.001.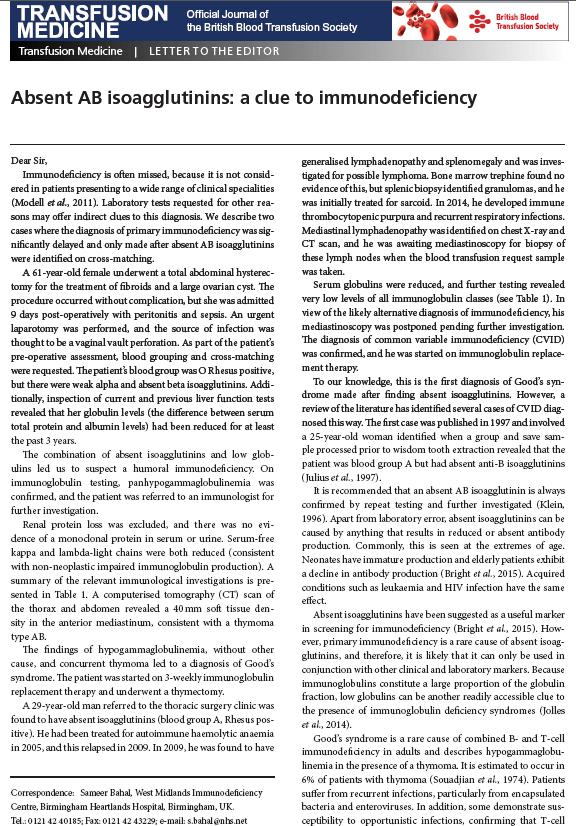 Srivastava S, et al (2014). Systemic reactions and anaphylaxis with an acute serum tryptase ≥14 μg/L: retrospective characterisation of aetiology, severity and adherence to National Institute of Health and Care Excellence (NICE) guidelines for serial tryptase measurements and specialist referral. Journal of Clinical Pathology 67(7):614-9
Adalat S et al. (2014) Toxic shock syndrome surveillance in UK children. Arch Dis Child; 99(12):1078-82. doi: 10.1136/archdischild-2013-304741
Edgar et al (2014). The United Kingdom Primary Immune Deficiency (UKPID) Registry: Report of the first 4 years' activity 2008-2012. Clinical & Experimental Immunology; 175(1): 68–78.
Jolles S, et al (2014).  A UK National Audit of Hereditary and Acquired Angioedema. Clinical and Experimental Immunology Clinical & Experimental Immunology; 175(1):59–67
Wong G, et al (2013). Outcomes of splenectomy in patients with common variable immunodeficiency (CVID): a survey of 45 patients. Clinical & Experimental Immunology; 172(1):1365-2249.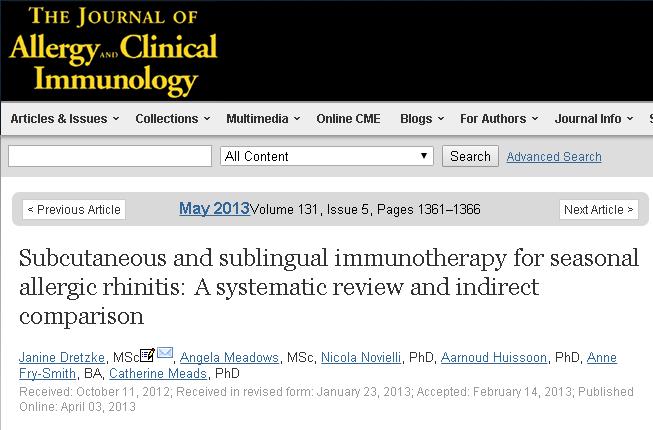 Dretzke J, et al (2013). Subcutaneous and sublingual immunotherapy for seasonal allergic rhinitis: A systematic review and indirect comparison. Journal of Allergy and Clinical Immunology;131(5):1361-1366
Meadows A, et al (2013). A systematic review and economic evaluation of sublingual and subcutaneous allergen immunotherapy in adults and children with severe hay fever. Health Technology Assessment; 17(27)
Jyothi S et al. (2013) Immune deficiencies in children: an overview. Postgrad Med J.; 89(1058):698-708. doi: 10.1136/postgradmedj-2012-302278rep
Hambleton S et al. (2013) STAT2 deficiency and susceptibility to viral illness in humans. Proc Natl Acad Sci U S A.; 110(8):3053-8. doi: 10.1073/pnas.1220098110